MONTHLY MEMBERSHIP WITH EXPERT EDUCATIONAL AND TRAINING RESOURCES DESIGNED TO IMPROVE YOUR GYMNASTICS.

WHO IT'S FOR: Functional fitness athletes and coaches

The membership embodies Kati's coaching methodology of education and understanding first, practice and training second.

Resources to address all facets of gymnastics, including: skill development, strength and conditioning, flexibility and mobility, body and spatial awareness, maintenance, recovery and injury guidance, and more.

The membership is designed for athletes of all levels, abilities and backgrounds, providing the tools you need to be effective, confident and safe in the sport of gymnastics.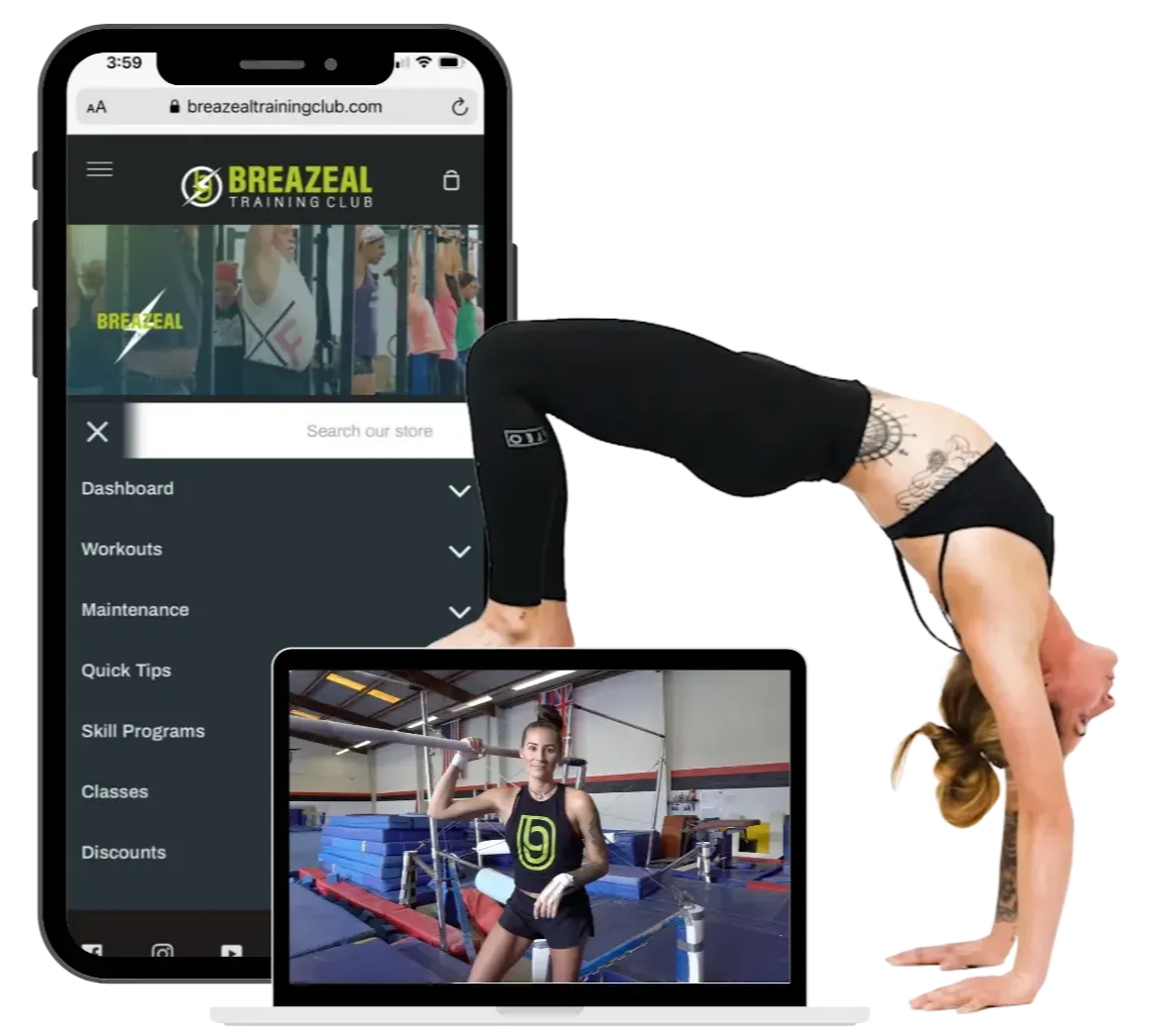 ✔️ 4-Week training plans with multiple tracks
✔️ In-depth gymnastics skill classes
✔️ Expert skill breakdowns
✔️ Instruction for all ability levels
✔️ Strength and conditioning sessions
✔️ Stretch sessions and flexibility library
✔️ Maintenance and recovery circuits
✔️ Coaching quick tips
Have a specific skill you want to work on? Your Training Plan includes programming to target all aspects of the movement to achieve maximum, well rounded improvement in your performance.

You'll access skill-specific warm-ups, mobility and flexibility circuits, strength, skill and technique training. Not sure about an exercise? Just watch the movement demo and you'll be ready to go.

All Training Plans include two tracks. Level 1 is recommended for beginner to intermediate level gymnasts. Level 2 is available for those more advanced athletes wanting a bigger challenge.


AVAILABLE TRAINING PLANS:

✔️ 6-Week Core Strength
✔️ Foundations
✔️ Overhead Overhaul
✔️ Handstand Hold
✔️ Handstand Walk
✔️ Strict H.S.P.U.
✔️ Kipping H.S.P.U.

✔️ Toes to Bar
✔️ Strict Pull-Up
✔️ Kipping Pull-Up
✔️ Butterfly Pull-Up
✔️ Bar Muscle-Up
✔️ Strict Ring M.U.
✔️ Kipping Ring M.U.

The gymnastics classes cover everything you need to know about your favorite skills — Movement patterns, body shapes, timing, cues, strength and flexibility requirements and more. Plus, different levels of drills and progressions cater to athletes of all levels.


AVAILABLE CLASSES:

✔️ Pistols
✔️ Headstand
✔️ Handstand Hold
✔️ Handstand + Roll
✔️ H.S. Shoulder Taps
✔️ Handstand Walk
✔️ Strict H.S.P.U.
✔️ Kipping H.S.P.U.

✔️ Toes to Bar at Home
✔️ Strict Pull-Up
✔️ Kipping Pull-Up
✔️ Butterfly Pull-Up
✔️ Bar Muscle-Up
✔️ B.M.U. Transition
✔️ Glide Kip
✔️ Ring M.U. Transitions

Here's the bottom line: Healthy gymnasts are successful gymnasts.

Gymnastics challenges athletes to push past their physical limits, moving their bodies in ways that we just don't see anywhere else. Like a sports car, gymnasts must prioritize their own maintenance to keep all systems functioning effectively and safely.

Athletes have access to injury education, maintenance circuits, plus prehab and rehab exercises for various areas of the body, including the wrists, elbows, shoulders, ankles and more.

Unlimited Membership Access
Unlimited Membership Access
Unlimited Membership Access