MONTHLY MEMBERSHIP CREATED FOR FUNCTIONAL FITNESS ATHLETES AND COACHES.

The membership embodies my coaching methodology of education and understanding first, practice second.

For every strength session, stretch circuit, or recovery routine, I share the "why" behind the programming and how you're going to benefit.

Gymnastics is an incredibly mental sport, and my career experience has proven that:

✔️ EDUCATION LEADS TO UNDERSTANDING.
✔️ UNDERSTANDING LEADS TO AWARENESS.
✔️ AWARENESS LEADS TO IMPROVEMENT.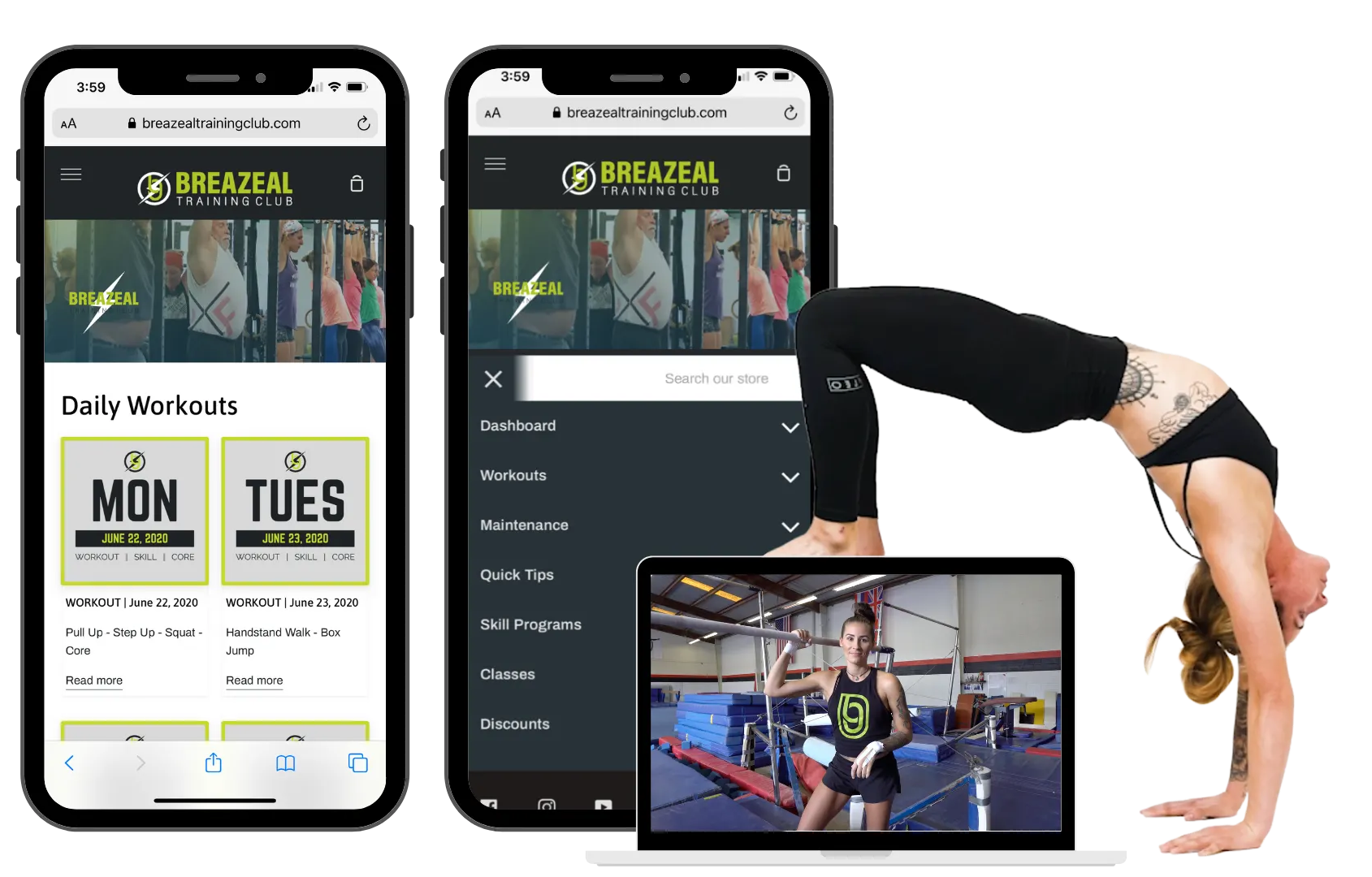 ✔️ 4-Week training plans with multiple tracks
✔️ In-depth gymnastics skill classes
✔️ Expert skill breakdowns
✔️ Instruction for all ability levels
✔️ Strength and conditioning sessions
✔️ Stretch sessions and flexibility library
✔️ Maintenance and recovery circuits
✔️ Coaching quick tips
Each 4-week training plan focuses on a single skill, giving you the tools needed to see improvement at the end of 28 days, IF, you complete the sessions consistently and to the level of quality that I expect.

If you're ready to challenge your mental and physical abilities, pushing past your current limits, these training plans are for you.

Each training program includes a Level 1 and Level 2 track, giving athletes options based on their ability level.


TRAINING PLANS INCLUDE:

✔️ 6-Week Core Strength
✔️ Foundations
✔️ Overhead Overhaul
✔️ Handstand Hold
✔️ Handstand Walk
✔️ Strict HSPU
✔️ Kipping HSPU

✔️ Toes to Bar
✔️ Strict Pull-Up
✔️ Kipping Pull-Up
✔️ Butterfly Pull-Up
✔️ Bar Muscle-Up
✔️ Strict Ring M.U.
✔️ Kipping Ring M.U.

Each class covers everything you need to know about your favorite skills — Movement patterns, body shapes, timing, cues, strength and flexibility requirements and more. Plus, different levels of drills and progressions will help athletes of all levels practice better.


MEMBER ONLY CLASSES INCLUDE:

✔️ Pistols
✔️ Headstand
✔️ Handstand Hold
✔️ Handstand + Roll
✔️ H.S. Shoulder Taps
✔️ Handstand Walk
✔️ Strict H.S.P.U.
✔️ Kipping H.S.P.U.

✔️ Toes to Bar at Home
✔️ Strict Pull-Up
✔️ Kipping Pull-Up
✔️ Butterfly Pull-Up
✔️ Bar Muscle-Up
✔️ B.M.U. Transition
✔️ Glide Kip
✔️ Ring M.U. Transitions

MAINTENANCE AND RECOVERY CIRCUITS
During my career, I had my fair share of injuries — 21 broken bones, torn groin and hamstring muscles, even a knocked out molar. It may come at no surprise that I appreciate and prioritize injury prevention and proper recovery.

I've created a library of circuits, plans and exercises for athletes to implement into their own training, helping to prioritze the health and functionality of your body. From the shoulders down to the ankles, you'll have access to the plans I followed during recovery.
Unlimited Membership Access
Unlimited Membership Access